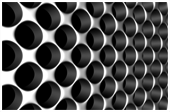 Trejos Iron works is dedicated to providing the highest quality wrought iron fences, and custom steel work. If it's metal, we can weld it.™
Our goal at TIW is to be the leading provider of wrought iron, wood, and chain-link fences and custom steel work in the Chicagoland area by providing our customers front-line security for their homes, and or businesses while presenting an aesthetic appeal that stays within our customer's budgets.
Unlike our competition, most our products are painted using power coating technology that provides a great finish and leads for a fence that is practically maintenance free. Ask your competitors what kind of paint they are using, chances are they aren't using power coating technology.